Engineering
Our Product & Engineering departments are made up of more than 200 colleagues all over the world, with an R&D center located in Prague. The Engineering department builds and improves our Ataccama ONE platform, giving our clients the data management support they deserve.
3
open roles
Scroll down ↓

Back-End
Containing the Java, Python and other teams, the Back End team spreads best practices on our languages' ecosystems and libraries.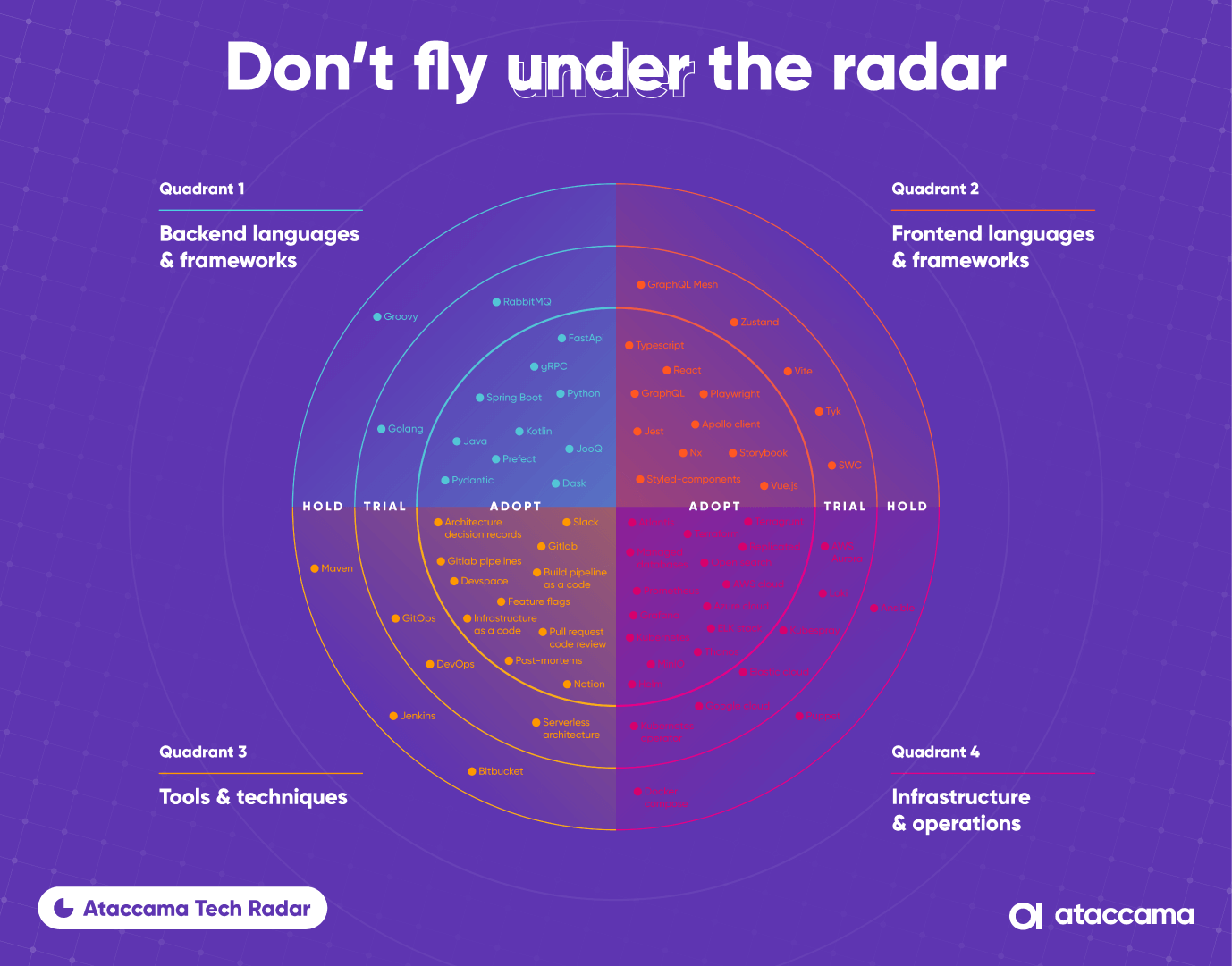 Our

See how we help people grow in the Engineering department
Junior Engineer
A junior engineer builds defined features, investigates and fixes bugs, and writes tests.
Engineer
An engineer takes ownership. You can trust them to turn loosely defined requests into the right result.
Senior Engineer
A senior engineer owns a functional area, and breaks large requests down into sub-tasks.
Senior Staff Engineer
A senior staff engineer takes technical ownership over an entire product area, or leads a Circle. They understand the company dynamics, and scale according to best practices.
Principal Engineer
A principal engineer evaluates system-wide platform decisions and set long-term, company-wide technical strategies.
Data Governance
Data governance means managing the availability, usability, integrity and security of the data in enterprise systems. The Data Governance Spaceport finds, catalogs and, of course, uses data & metadata in order to understand the relationships and data flows between them and govern data more effectively.
Data Quality
The Data Quality Spaceport's mission is to make high-quality data available to everyone who needs it for their work. The Spaceport's members help customers discover data anomalies, fix them, and ultimately trust their data so they can create and innovate better.
Data Stories
The Data Stories Spaceport governs our newest product, Data Stories - a rapid data visualization tool designed to create, present, and share data-driven narratives using dynamic reports, animations and tooltips. The Data Stories Spaceport maintains the Data Stories SaaS application, as well as governing the integration between Data Stories and Ataccama One.
Data Integration
The Data Integration Spaceport provides the foundation for data processing capabilities, connectivity and extensibility of Ataccama products. In short, this team ensures that when a user performs a data source-related task in Ataccama ONE, it will be executed in the fastest, most scalable and reliable manner possible.
MDM
Ataccama Master Data Management (MDM) is an advanced, scalable, and highly available platform designed to consolidate and provide master data management tasks. The MDM Spaceport maintains and updates this fully metadata (data model) driven data processing system, with a strong emphasis on Data Quality Management.
ICOPS
The ICOPS Spaceport encompasses everything surrounding cloud and similar technologies. Everything from running our customer's cloud environments, to providing developers' platform for our engineering, to handling hybrid deployments and proactive security.
Product Foundation
The Product Foundation Spaceport builds and manages several of our platform's customer-facing components – configurable storage, configurable UI, audit, design system, AI core, localization, authentication, and performance testing.
ONE Data
The ONE Data Spaceport builds a module that empowers business users to transform their data into governed data products available organization-wide. This versatile module helps our customers with tasks like reference data or data quality issue management.
ONE Portal
The purpose of the One Portal Spaceport is to build a public domain - www.portal.ataccama.com - where the user can log in, spin an environment, upgrade from a demo to a POC and run without limitations.
Prague
Prague
Prague