At Ataccama we love giving props to our teammates when we accomplish something big — and it feels great to be recognized for our cool and fun office space, too. We were excited to learn that our Prague office has been named IT Office of the Year 2020, placing Ataccama in the same league as the most inspiring and innovative companies in the city.

For Prague-based Ataccamers and anyone who's had the chance to visit our offices this probably comes as no surprise. Our spaces in the Futurama Business Park in Karlin have been designed to keep our team not only comfortable, but inspired. Read on to find out what makes our office special and how it supports our unlimited playground!
What's in a name?
In a nod to our company name (influenced by the Chilean Atacama desert, which is known for being one of the driest and cleanest places on Earth, and perfectly aligns with our mission to help our clients get data of the purest quality) our Prague offices are designed with natural materials. Raw, non-traditional elements such as sheet metal, wood, and felt give our offices their modern and industrial aesthetic. Our CEO Michal Klaus worked closely with the architects throughout the entire design process to make sure the office space feels truly ours.
Designed with Ataccamers in mind
Considering all the hard work our team does, we wanted to make sure we added spaces in the offices for well-deserved breaks. We have a designated game room where Ataccamers can disconnect from Slack for a bit, challenge a colleague to a gaming session (or two 😃), or get creative on our 3D printer.
Our offices have an open layout so that Ataccamers can easily get together, whether to work on a tough problem or just to share a funny story. Couches and little nooks around the offices give us the freedom to meet more comfortably, while others enjoy spontaneous kitchen conversations over some of the best coffee in town (we take our coffee seriously and tried several before voting on our favorite). It's also not uncommon to hang out with some of our favorite furry visitors as many colleagues bring their pets to this dog-friendly office.
Making the most of WFH
Or, at least, that's how we did things pre-Covid, and we can't wait to get back to the office and see each other in person more often! As we've adjusted to life in nearly perpetual home office, we're slowly transitioning to a more flexible approach to the work day. A hybrid work week where Ataccamers can choose to work either remotely or spend a couple days in the office (maintaining a limited capacity) could be our answer to moving forward with working life safely and ensuring flexibility for everyone.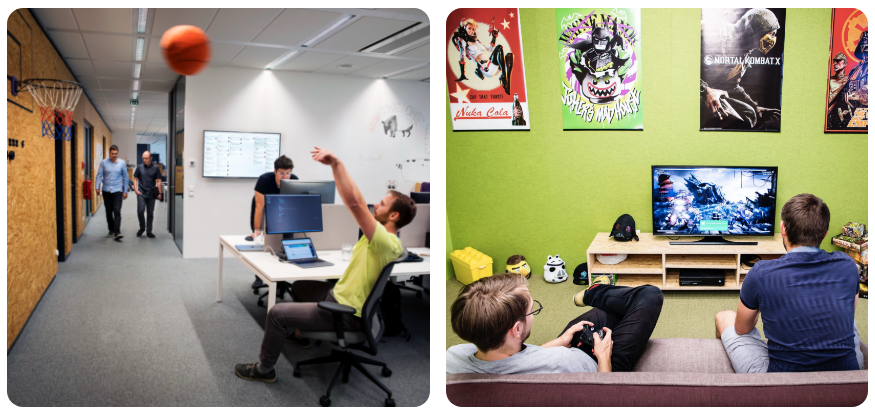 Work hard, play hard
We're proud of what we've accomplished with Ataccama ONE and what we as a team continue to create together. But as much as we take pride in our product and achievements, we prioritize maintaining our unique company culture. Ataccama ensures each and every member of the team has space to tap into their creativity and think outside the box. Our office is decked out (literally) with skateboards, scooters, and office bikes that can be checked out to get around Karlin (or even around the office).
Something that really promotes happiness at Ataccama is our strong belief in the idea of exploring our #UnlimitedPlayground. This means that no matter what role you're originally hired for, you have room to grow and adjust based on your skills and interests — and even explore other roles entirely within the company. In fact, quite a few of our teammates started with Ataccama in one position and expanded it based on their interests, or moved to a completely different team! Check out Ruben and Irena's stories to see our unlimited playground in action.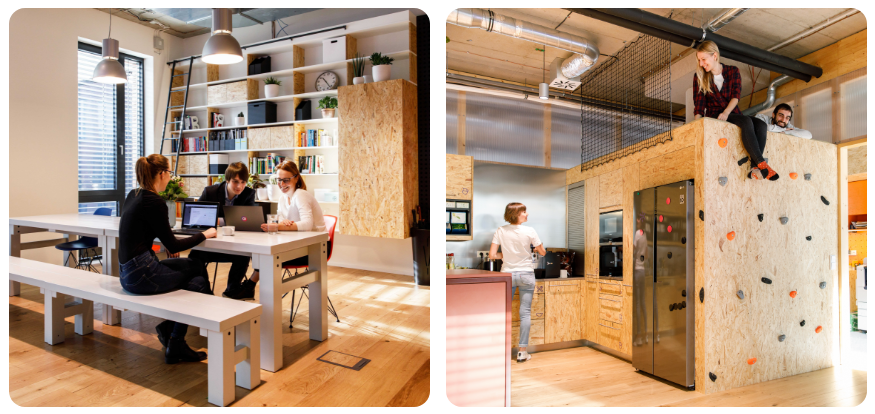 The people behind Ataccama
We ensure our team is happy and thriving by supporting each other every day. We foster a welcoming, friendly community and look for opportunities to spread encouragement. It's not unusual to find out that one of your colleagues is training for a triathlon or investing time outside of work on their own creative projects. It's this imaginative and playful nature of our team that brings us success and makes our office space truly authentic.
Personal growth is also an important part of being an Ataccamer. Anyone feeling inspired to learn something new can explore our office library where they can check out helpful professional development resources or even request a new book that could help out the whole team. And our Ataccama bookworms can jump in on one of our new company book club's upcoming meetings.
Take a virtual office tour
If you can't tell, we think our offices are great! But don't just take our word for it. You should see for yourself. Join us on a virtual tour. We'd love to show you around!

https://www.youtube.com/watch?v=hY1AjdyKUQI



Join us for some #ChallengingFun!
We're growing — and growing fast! — and hiring globally. As we continue to take on new challenges, we need talented new team members to join us in reaching our goals. Does Ataccama sound like a perfect fit for you? Check out our open positions and see if you find your dream role.